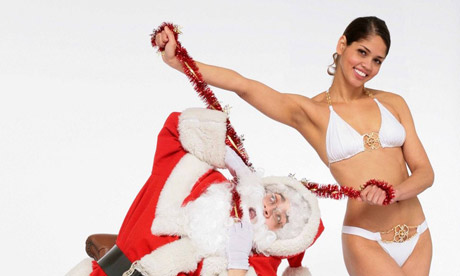 (My favourite bit of Christmas art this year - Pic by Gillian Wearing)
Seasons gretings all... got a little Xmas teat for you!

Dear Amazon.co.uk Customer,

We'd like to give you an extra Christmas present:

£3 to spend on anything in our MP3 Music Downloads store on Christmas Day and Boxing Day

. Visit us on December 25 or 26, then just add your chosen MP3s to your Shopping Basket (you need to use the Shopping Basket rather than 1-Click) and enter code FREEMP3S at the checkout--£3 will be deducted from the total. Feel free to forward this email to friends and family members--they can get £3 to spend on MP3s too!

Amazon recently launched their online MP3 store in a direct challenge to itunes. Unlike itunes there's no restriction on the number of times you can copy the files and it's just as cheap so that's the last time I download anything with restricted access!
Tomorrow methinks I'll be snapping up the latest phat Muti Music glitch hop offering from
ill.gates
.... just click
this link
to listen to samples!
Should make all that time with the relatives a bit more bearable! ;)